If your organisation has Master and Sub-Tenants configured in OrgVue, you can tag datasets so that whatever is in the Master can also be viewed in the Sub-Tenants.
To do this, you will need to tag your dataset in the Master Tenant with view:guest in order for Admins to be able to see it in the Sub-Tenant.
view:guest


If you also want those with User level permissions to be able to view a dataset from the Master in the Sub-Tenant, then you will need to set up the tag view:guest,user, unless the dataset has already been tagged with edit:user, in which case they will be able to view it with the tags edit:user and view:guest.
view:guest,user


or
edit:user
view:guest


Please note that datasets originating in the Master can only be edited in the Master, and viewed in Sub-Tenants. Even where you can interact with the dataset and change nodes, you will not be able to save any changes, even if you are an Admin.
When you have view access to a dataset in the Sub-Tenant, and there is only a lock icon (and not the eye icon) you can interact with the dataset, but will see the following message if you try to save: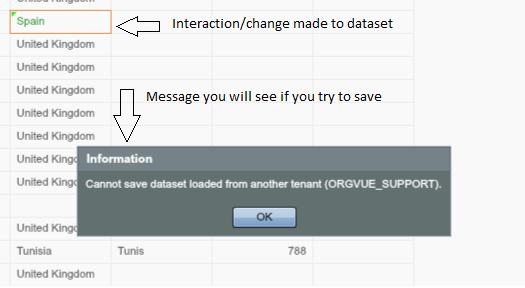 If you go to close the dataset after making a change, you will get a prompt asking if you want to save your changes: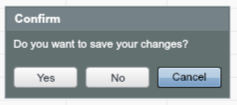 Here you should click 'No', otherwise clicking with 'Yes' will result in the following error message: