There are a number of Orgvue environments and your Orgvue tenant is only hosted in one environment. (There is a different URL for each environment.) It is clearly important therefore that you access your Orgvue tenant at the correct URL.
The URL of your tenant's environment is included in the email you will have received letting you know that you have access to Orgvue. See below: the URL is shown underneath the 'Access Your Account' link. (Clicking the 'Access Your Account' link takes you to this environment.)
The tenant name is in bold after 'You now have an account with ...'
We recommend that you retain this email for reference. The first question Orgvue Support will likely ask you is what is the name and environment of your tenant.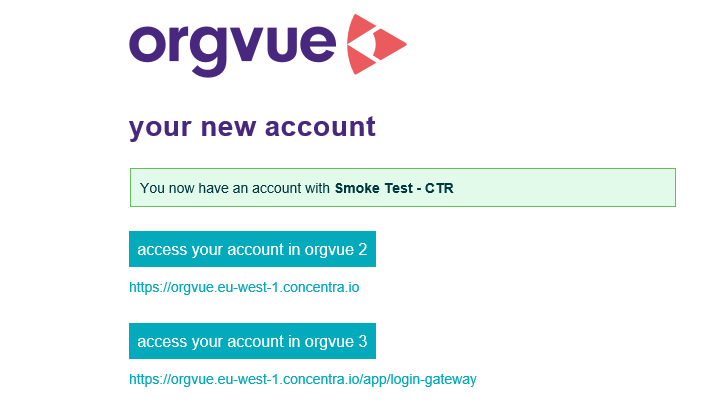 In addition, once you have signed in to Orgvue the tenant name is displayed at the top right of the Workspace : -

In this screen shot the tenant name is 'OrgVue Support - CTR'.
Orgvue Environment URLs : -
DO NOT USE THE URLs BELOW TO ACCESS ORGVUE, SEE INSTEAD : -
https://support.orgvue.com/hc/en-us/articles/360013653397-orgvue-3-URLs
Environment

URL

Server Location

Maintenance Outage Time*

AP Southeast

(Production)

AUS - Sydney (AWS)

Sunday UK Time 06:00 - 10:00

EU West

(Production)

Ireland (AWS)

Sunday UK Time 06:00 - 10:00

US East

(Production)

US - N Virginia (AWS)

Sunday UK Time 06:00 - 10:00

AP Southeast Staging

AUS - Sydney (AWS)

EU West Staging

Ireland (AWS)

US East Staging

US - N Virginia (AWS)
* The Maintenance Outage Time is there if needed. Only very occasionally is it used.
Data Server Resilience
Orgvue is hosted in three different AWS regions. (An AWS Region is a physical location in the world where the hosting servers are geographically located.) In each of those regions there are at least three 'Availability Zones' (physical locations) which provide continued Orgvue access should one of those Availability Zones fall over. Such an event would be invisible to an Orgvue user.
Each Availability Zone has one or more discrete data centres, and each of these has redundant power, networking and connectivity, and is housed in separate facilities.
An Orgvue tenant is held in only one of the AWS Regions.
Back Ups
The AWS backups are stored by AWS itself with KMS encryption in the relevant region
Backups cannot be moved away from AWS without AWS/KMS permissions
Production databases are backed up daily by AWS service
Backups are taken daily, overnight GMT, and retained for 30 days
Client data is also encrypted when backed up
Postgres Backup Orgvue service uses S3/KMS (also encrypted)
S3/KMS enforce policies are in place so data cannot be pushed to S3 without KMS permissions
Orgvue Version
NOTE: When you access Orgvue the system will add the current version of the currently accessed Orgvue app to your URL like this : -
Once the environment has been accessed you will note that the URL now shows as https://orgvue.eu-west-1.concentra.io/app/login-gateway/1.0.2021020301/ (or similar, note the "1.0.2021020301" on the end of the URL which indicates the version of the login-gateway app)
Once you have signed in and accessed your Orgvue tenant you will see the version number in the URL, like this : -

Here the orgvue version is 3.12 (and the tenant ID is "ORGVUE_SUPPORT")
Do not save the versioned URL for Orgvue as a bookmark
Saving the 'clean' URL for Orgvue means that you will always be directed to the current version of Orgvue
Version structure : -

3.12.202102050156 The leading digit group is the Major Release
3.12.202102050156 The second digit group is the Release
3.12.202102050156 The third digit group is the Update
Recovery Time Objective / Recovery Point Objective
RTO = 4 hours
RPO = 1 hour
Orgvue Security
Details on Orgvue's security regime are available here : -