There are a number of OrgVue environments.
It is clearly important that you access your OrgVue tenant at the correct URL.
The URL of your tenant's environment is included in the email you will have received letting you know that you have access to OrgVue. See below: the URL is shown underneath the 'Access Your Account' link : -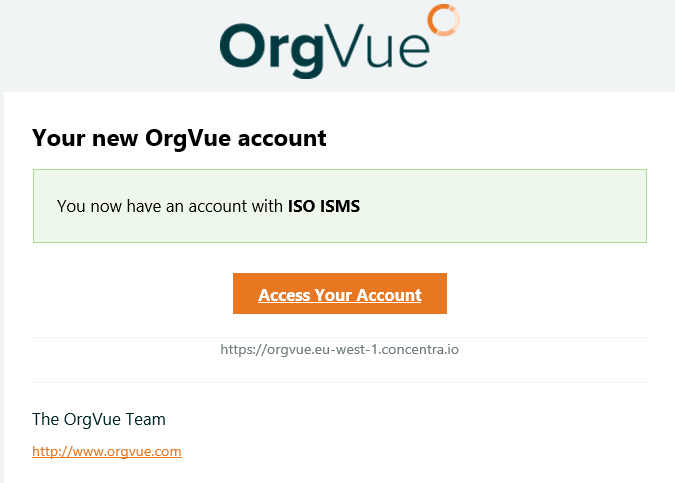 In addition, once you have signed in to OrgVue the tenant name is displayed at the top right of the workspace : -

In this screen shot the tenant name is 'OrgVue Training'.
 OrgVue Environment URLs : -
| | | |
| --- | --- | --- |
| Environment | URL | Server Location |
| EU West | | Ireland (AWS) |
| US East | | US - N Virginia (AWS) |
| AP South East Staging | | AUS - Sydney (AWS) |
| EU West Staging | | Ireland (AWS) |
| US East Staging | | US - N Virginia (AWS) |
Data Server Resilience 
OrgVue is hosted in two different AWS regions. In each of those regions there are two 'Availability Zones' (physical locations) which provide continued OrgVue access should one of those Availability Zones fall over. Such an event would be invisible to an OrgVue user.
An OrgVue tenant is held in only one of the regions.
Back Ups
The AWS backups are stored by AWS itself with KMS encryption
Backups cannot be moved away from AWS without AWS/KMS permissions
Production databases are backed up daily by AWS service
Backups are taken daily, overnight GMT, and retained for 30 days
Client data is also encrypted when backed up
Postgres Backup Orgvue service uses S3/KMS (also encrypted)
S3/KMS enforce policies are in place so data can not be pushed to S3 without KMS permissions
OrgVue Version
NOTE: When you access OrgVue the system will add the current version of OrgVue to your URL like this : -